Why installing a warehouse window shutter is essential for your warehouse?
Robust and easy to use roller shutter is a top choice amongst industries for windows in their warehouses. The material is found to offer superior protection from pests, harsh weathers, and thefts. Apart from the security and privacy they offer, a roller shutter is also the best option considering the insulation and efficiency aspect of the product. Top service providers of roller shutter repair Singapore acknowledge the efficiency of a roller shutter and recommend industries to install the system for augmented security and overall efficiency.
Warehouses are typically large storage spaces that have high roofs. During winter, it becomes extremely challenging to insulate these places due to their enormous sizes. Adding to the woes, the narrow windows present in the warehouses provide poor protection from extreme cold. Roller shutters can be a perfect substitute for all other window materials with their extra layer of insulations and high energy efficient make. To know more benefits, continue reading the article that explains how a metal roller shutter is the best investment for your warehouses. Check Out here to know about the global industrial rolling shutter door market growth.
Benefits of installing roller shutters for a warehouse
Energy efficiency, security, budget, and requirement of lights are few key factors determining the efficiency of a warehouse window material. If the warehouse is located in a location with changing seasons, it is important to invest in a product that functions efficiently irrespective of the climate. A metal roller shutter is undoubtedly a great option that exhibits its efficiency amidst any harsh conditions.
Apart from the suitability of the materials used to make the roller shutter, it is also advised to consider the activities and functions in a warehouse. The items stored inside and the weather also plays a crucial role in determining the choice of shutter materials.
Here are a few vital points that suggest why a roller shutter is an apt choice for your warehouse.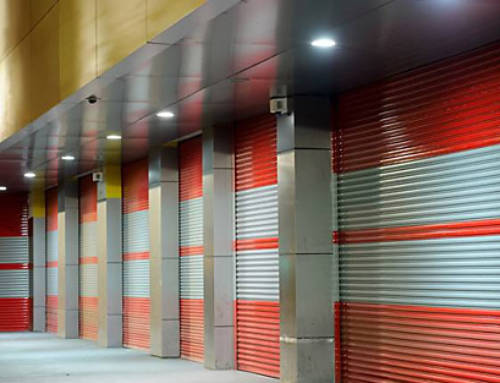 Easy installation and easy maintenance
Roller shutters are manufactured to cater to diverse industries and are extremely easy to install and maintain. The internal retro-fittings, self-lubricating mechanisms, and easy to clean designs make the roller shutters easy to fit in any aperture and easy to maintain as well. Besides the metal's intrinsic properties, manufacturers also give these products special colour-coating treatments to enhance their longevity.
Caters to multiple warehouse issues
Each factory or warehouse differs and faces multiple challenges based on the stored items in the buildings. Some store food, while some others store chemicals or other non-edible items. Roller shutters can provide ample protection of the stored items by maintaining high hygiene standards and controlling the flow of air and pests, thereby preventing contamination. Some shutters also accommodate a fly screen to keep away pests destroying the stored items.
Aids an added security to the warehouse premises
The versatile and strong make of roller shutters adds to the security of warehouses. The robust window structures prevent thefts and break-ins. The sheets are tested to ensure their tensile strengths and flexibility and have certified security ratings. The security ratings also ensure that the structure is resistant to bends, cracks, or corrosions.
Excellent insulation from hot and cold weathers
Temperature control inside a warehouse is a crucial factor when sensitive items are in for storage. Window shutters are considered the best materials when it concerns insulation efficiency. They also come with quality seals that ensure the gaps are tightly sealed. The easy to operate mechanisms also ensures that the shutters open and close quickly, preventing the energy from flowing in and out. Warehouses can now greatly minimise the energy cost by installing roller shutters.

Fire and wind resistant
Roller shutters are typically made from galvanised steel that offers great protection from harsh elements like fire, wind, and other natural calamities. The strength and durability of the materials make them highly resistant to winds and corrosion, making them perfect for locations that are vulnerable to these accidents.
Smooth and noiseless operations
Warehouses and factories are high traffic buildings. Frequent closing and opening of windows and shutters are inevitable in these buildings and require mechanisms that aid smooth operations and less noise. Thanks to innovative mechanisms like nylon polyguides, and lubricants shutter windows are a perfect addition to warehouses and factories.